WOCON'S WOMEN'S POLITICAL EMPOWERMENT, DEMOCRACY AND GOOD GOVERNANCE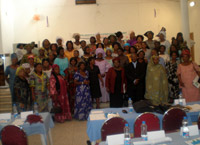 WOCON's commitment to the entrenchment of good Governance and Democracy is intertwined with its efforts to ensure women's equal participation in Governance and the electoral process in the last 15 years.
Some of the principal activities of WOCON include :
 Training of Women in Politics organised by International Republican Institute ( IRI)
Training of women on the gains of Beijing using the simplified version of the Beijing Platform for Action in Yola and Birni Kebbi 1996 produced by Women Law and Development Centre Nigeria ( WLDCN)
Training of core  120 men and women trainees  from Ogun Ondo and Ekiti States on election observation and how to complete Standard check list for immediate reporting of elections monitoring (1998-1999)
Step Down trainings of 1500 men and women in Ogun, Ondo and Ekiti States for the observation of elections in 1998-1999
Training of 400 core trainers on Voter Education Campaigns  on voter's rights, voting procedure, avoiding electoral violence and vigilance to avoid rigging and elections malpractices in Ogun, Ondo and Lagos States in1998-1999.
Training of 40 core women trainers on civic Education for Women in Lagos – Sept. 1999
Workshop on Civic Education for Women in Lagos – 1999 with support from Canadian Catholic Organisation for Development and Peace
Voter Education Campaigns in Ogun and Ondo States- 1999 with support from Department for International Development (DFID) UK
Workshop town hall meetings on civic education and good governance in four zones of Ogun state - 1999 with support from Democracy and Governance Programme United State Information Service (USIS)
Training of 120 men and women professionals and educated women on personal empowerment, art of  politicking and the democratic principles necessary to sustain good governance and the electoral process in 3 Zones in Ogun State.
Training of Trainers Workshop for Observers of Voter-registration Exercise- 2002 in South West of Nigeria  days training workshops for 40 core trainees selected from representatives from the six States, SIEC and INEC, representing the South-West Geo Political zone of Nigeria.
Training and mobilisation of women for political participation in 6 States in the North East Zone of Nigeria facilitated by WRAPA Abuja.
Training on Voter/ Civic Education for Women and Youth on Peaceful Electoral Process-2003 in Ogun State
Trained 256 observers for the observation of 2003 elections in Ogun State
Workshops on "Mobilizing Quality and Gender Participation in Electoral Process and Governance in Ogun State September - December 2001 supported by Transition Monitoring Group/United Nations Electoral Assistance Division Nigeria Project
Organisation of the UNOPS  HUB Project and seminar on "Education, an indispensable tool for regional integration of rural women producers" at the 49th Session of the United Nations Commission on the Status of women New York Feb-March 2005
Flag off South West zonal office and voter education for the women political     empowerment project initiated by Federal Ministry of Women Affairs. December 2006.
WOCON participated in the one day validation of tool kit for women in policy and decision making in Nigeria organized by Federal ministry of Women Affairs at Hamdala Hotel Kaduna on Monday 10th December 2007
Advocacy visits to political Party- To lobby for the increase in number of women in political Party hierarchy and support for women aspirants. 2007 with support from UNIFEM.
Organized a 3 day capacity building workshop in good governance for sustainable development for officials of Delta State Oil Producing Commission (DESOPADEC) at Gubabi Royal Hotel in Abuja, on 7th -10th November 2007
WOCON is member of the coalition of NGO on writing of the CEDAW Shadow Report at in Abuja from 13th - 15th March 2008 and was represented at the Nigeria CEDAW periodic Review New York 2008.
WOCON attended a 3-day capacity national stakeholders' training on gender   mainstreaming and New Aid Modalities in Nigeria organized by UNIFEM and OXFAM GB, held at the UN House, Abuja from16th-17th, June 2008
Advocacy visits and training of Local Government Department of Planning and Budgeting in Ogun State on gender issues, gender budgeting and planning.
 
Elections monitoring
Observed and Coordinated the Deployment of 1500 observers to observe local government and general elections in  Ogun, Ekiti  Ondo State  1998 -1999
Deployed Observers to monitor voter registration in Ogun, Ondo, and Edo States
Observed  and coordinated the observation of the conduct of the Police at the general election in 2003 in Ogun and Ondo States
Observation of General Elections Ogun and Ondo States – 2003
Coordinated the Field Monitoring of TMG Partners projects on civic education towards successful electoral process in South West Nigeria -2003 with support Open Society Initiative for West Africa (OSIWA) and DFID
Coordinated and observed elections in Ogun and Lagos in 2007, 2008.
 
Publications
The publications include:-
Training manual and handbook on "Mobilising Quality and Gender Participation in Electoral Process 2001
Training manual and Handbook on "Civic Education Towards good Governance"  
Report on Town Hall meetings/workshop on civic education towards good governance.
Posters, handbills and leaflets on issues such as democracy and good governance, civic education for women and youths.